Who we are
CARAMEL specialise in the creation and development of children's books destined for the "mass-market".
Based in Brussels and active without discontinuity since 1993, CARAMEL continues to innovate new concepts and ideas while expanding its editorial program.
World leader in the sector, CARAMEL's catalogue contains more than 3500 references and continues to expand every year by approximately 125 new books.
CARAMEL's books are mainly printed through large co-editions and get distributed across the world in more than 60 languages.
CARAMEL's partners are mainly large retailers, specialised distributors and other publishers that are using CARAMEL's creativity to complete their very own catalogue.
Our Offer
Our "multi-cultural" editorial programme ranges from colouring, short stories, activity, pre-school educational series, to picture and sticker books that can be highlighted by varied and fun gadgets!
Our main goal is to offer a product that's always fun and educational, at prices accessible to all the children of the world.
As a "packager", we are also developing a great amount of "tailor-made" projects according to our partners specific requests.
Some of our well-known short story series are also available as e-books on all the main digital distributors such as Amazon, Apple Store, Kobo and other specialised on-line book-shops
OUR LATEST NOVELTIES 2018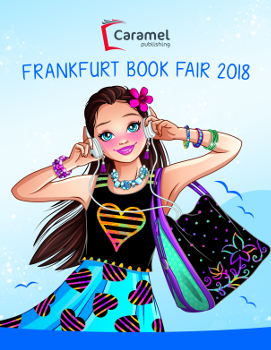 consult our new 2018 catalogue
Consult our previous catalogues
Check out our books
Licenses and Stationery Packs
CARAMEL is proud to be associated with some major worldwide licenses to develop their activity and educational books, as well as stationery packs. In many cases, CARAMEL will be able to quote you with the license costs included. Ask and we will see what can be acheived and developed.

Specially developed for key publishers and distributors, CARAMEL has been creative in designing the right packs to attract clients at the right price.
CARAMEL will develop the best possible product, according to your needs, with our without licenses.
Our Team
THE ENGINE OF CARAMEL

A dynamic group of professionals combining years of experience in the field with the expertise of international freelancers, all specialised in the creation and development of children's books.
Contact us
You can contact us by using the form below, by phone or by e-mail.
Contact info
CARAMEL PUBLISHING
RTL House
Avenue Jacques Géorginlaan 2
1030 Brussels
Sales: mathilde.bia@caramel.be
Production: fred.lombaerts@caramel.be
nancy.paternotte@caramel.be
Graphic Design: cecile.marbehant@caramel.be
[]
Meet Caramel
Internship
CARAMEL is always looking for students, young graduates, or simply bright people, open to new experiences. CARAMEL can offer stage, training, internships for 3 to 6 months. These internships will be ideal to discover life in "real" business, with interconnections with all our different departments. Whether it is for administration in general, export, sales, marketing, graphic design, illustrations, editorial, creation of new books or new concepts, … there is a lot to do, discover and learn! We are located within RTL house in Brussels. Easy to reach! Send your applications to: jmdoultremont@caramel.be